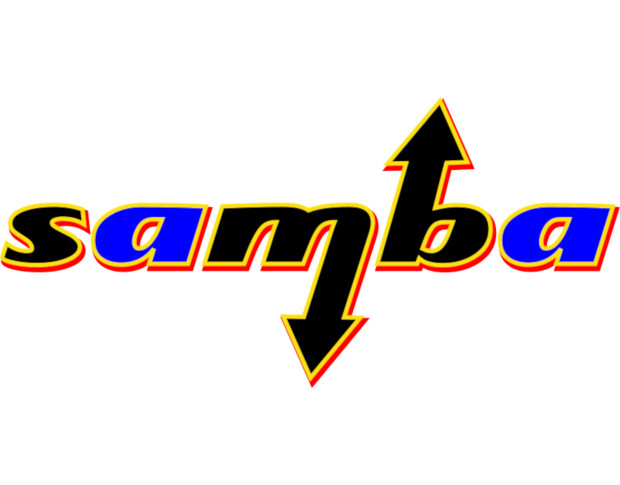 SAMBA for OS/2 based systems
On Blonde Guy computers, I usually install Samba Server. For my own use, I am used to restoring my Samba Server configuration, users and groups to the new computer. Some of my customers are just staring out with computer networking, and this guide is intended to help them.
Overview
Samba is software for file sharing. The part of the software that allows a computer to use files on a remote computer is called Samba client, and the part of the software that allows sharing files with users on remote computers is called Samba server.
The computers you want to network together need to be connected, either with Ethernet cables or with WiFi. They need to see each other on the network. I am going to assume that the computers are connected properly.
Samba Server is optionally installed by the ArcaOS installer. For my own use, I would then restore my backed up SAMBA configuration, users and groups. I use the Suntan Special apps, SambaBackup and SambaRestore for these purposes.
I have extended the SambaRestore app to install a default configuration users and groups suitable for the user of a Blonde Guy computer to start using SAMBA. The app can restores the configuration from a standard Factory build of a Blonde Guy computer.
After restore is complete, you can edit smb.conf to put in appropriate values for your lan, and run Samba Users and Groups to add your users and groups, and to enter more secure passwords for User and root.
Hardware
Each computer in your network will be connected, via ethernet cable or via WiFi, to your network's router. Each computer will need to have a working TCP/IP network connection. You probably already have this so you can use e-mail and the web browser.
ArcaOS note
Apparently ArcaOS 5.0.5 comes with a defective users set up, and will not run Samba Server after installation. Replacing the users and groups files using Suntan Special allows Samba Server to operate normally.
Running Suntan Special
The first step is to replace the defective user list from ArcaOS 5.0.5. For other ArcaOS versions, this step can't really hurt anything. Select the sambaRestore app and press install.
Long time users can apply their previous Samba Backup. First time users can accept the default settings to install SambaQ and press OK. The default settings also correctly set File Sharing security so ArcaOS 5.0.5 and later can see the server.
The App stops Samba, replaces the configuration, users and groups files, then then starts Samba. Once it has done its work, Samba is ready to configure.
After installing Samba Server
If you used Suntan Special, skip this section and proceed to Configuring SAMBA Server.
After install, run Simple Samba Configuration Center. This will start in Install mode, and prompt to install libraries using YUM. Also check "Erase current smb.conf and create a new one" which will then enable the checkbox for "Erase current backend and create a new one." Check this one, as well.
Click Continue. [NFW: ignore message Error 32 deleting F:\MPTN\ETC\samba\lock\gencache.tdb!]
When prompted, enter a password for root and confirm (if "Erase current backend and create a new one" was not checked, this dialog will *not* be presented).
Leave the default backend of "tdbsam" in place or select "smbpasswd" (tdbsam is preferred, but for small setups, smbpasswd is fine and more portable - tdbsam cannot easily be copied to a different server).
Leave "Server type" set to Standalone.
Set "Workgroup/Domain" accordingly.
Click "Create Samba default configuration" to continue.
Click OK after reading the message boxes presented.
BEFORE STARTING THE DAEMONS, ensure that the wheel group has been removed. This cannot be done with the GUI, so open a command prompt and type:

groupmod -x "wheel" 

Start the daemons.
This should result in a working Samba server and no breakage to Samba client (we supply a pretty stripped smb.conf for the client, so nothing is really lost when recreating this).
It is a good idea to add an account for the local user (User, usually). and a password. (Password for this example.) You should be able to do this with the Samba Users and Groups GUI, however, after root has been added.
One last thing that is needed to make this work with newer clients. Set max protocol = SMB2 in smb.conf. This can be down with the edit smb.conf icon. Restart the samba server before starting the next section.
Configuring SAMBA Server
Open the Samba Folder and find and start the Simple SAMBA Configuration Center.
The first time the Simple SAMBA Configuration starts it will start in install mode. Do not change any setting, but press the Continue button to allow YUM to install the prerequisites. Once YUM has completed, Samba Server will be ready to use.
On subsequent invocations Simple Samba Configuration Center will display the system configuration. You will see all the basic parameters and a list of resources that are shared.
Open Samba Users and Groups, and you will see the Credentials dialog. The default user on the system is User. Enter the correct password (the default password is Password).

The Local Samba Users and Groups dialog has all users, Samba and otherwise displayed. Check the box to display only Samba Users. Notice the user named User. You can create your own users, but for now, User is our example. You can (and should) change the passwords on all users after you get the basic file sharing to work.
Close the two programs above and open Samba Status Monitor. You should see both smbd.exe and nmd.exe running. If not it is time for some troubleshooting.
If they are running, look at Nethood, and you should see your computer. Expanding the tree view, you should see all your shared resources. If so, the server is ready to use. To share files at system startup time, place a copy of the Samba Start icon in the system's Startup folder.
Configuring Samba Client
With the new computer configured as the server, it is now time to configure the other computers as clients. Once configured, you can copy all your accumulated files from the old computer(s) to the new one.
If you are using ArcaOS, start ArcaMapper Connections. Select Network Neighborhood and find your Samba Server. Expand the computer to see the shared resources. To assign one of them a drive letter, right click on it and select "mount". In this case the server shared drive D: will be mounted on the local machine as drive V:.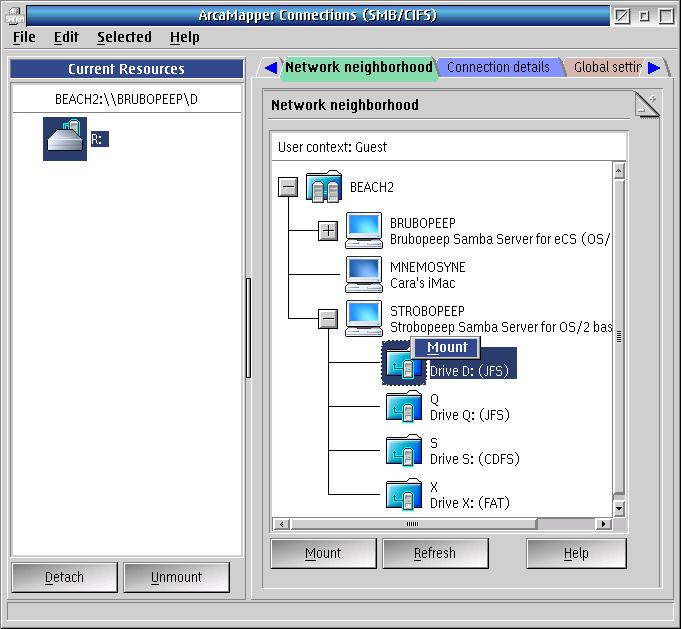 A dialog will let you set drive letter and optionally the directory to be the mount point for the resource.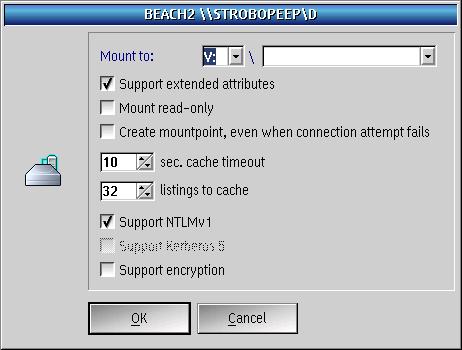 Enter the userid and password, which are "User" and "Password" in our default configuration. You should select more secure passwords after getting networking operational.

Starting with ArcaOS 5.0.5, Samba client connections are persistent, which means you do not need to set items in the startup folder.
Connecting to Samba Server under eComStation
Connecting to Samba Server is roughly the same for eComStation users as it is for ArcaOS users. To start, open the Local Network folder and start File and Directory Connections. Select the Network Neighborhood tab and you should see your Samba Server in the list of connections. If not, then time for some troubleshooting.
Navigate the list of connections to the resource you would like to use, right click on it and select Mount. Pick an appropriate drive letter for the resource and leave the rest of the fields alone. Enter the User and Password on the next page, and then the resource should be mounted.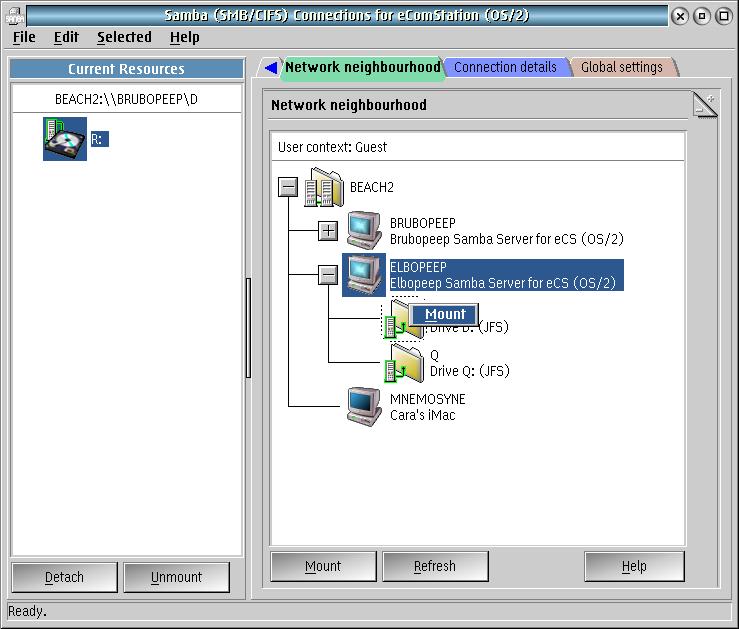 After making sure you can read and write to the new drive letter, save the profile of connections (File->Save...) so you can use it again. The Profile contains all of the current connections for your client.
Connecting to Samba Server under OS/2 using NetDrive is left as an exercise for the student.
Conclusion
I have just scratched the surface of Samba for OS/2 in this article. There is a lot more material to cover, particularly if you want to interface more computers running different operating systems.
Last Modified: 27 Aug 2020
Graphics by Colorful Language
Copyright 2020 by Blonde Guy