Epson Stylus C60 Printer
---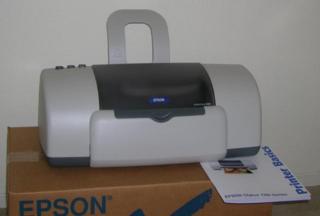 This is a used inkjet printer that works very well with OS/2 and eComStation. The epomni5 printer driver was written specifically for this printer.
I used this printer in my business for many years. I originally purchased it on 16-Dec-2002.
Overview
This printer works well with eComStation and OS/2, both with parallel port and USB.
Cartridges
The included, full-size cartridges are partly used. Replacement cartridges are available. I have used both generic and Epson cartridges. I got the best results with Epson cartridge refilled by a local shop.
Paper Handling
Paper feed is very good, and the printer can handle #10 envelopes without difficulty.
Physical Dimensions
Height: 7 inches (not counting paper feeder)
Width: 18 inches
Depth: 10 inches
Shipping Weight: 9 lbs
Ordering
To buy this printer, fill out an order form and submit it to Blonde Guy. Blonde Guy will review your order and send you an invoice, payable using PayPal or any major credit card. This printer is not in stock, and will ship when available after the invoice is paid. When the printer ships, you will receive an e-mail with a tracking number to track your shipment.
Last Modified: 29 Feb 2008
Graphics by Colorful Language
Copyright 2008 by Blonde Guy