Wireless access point
---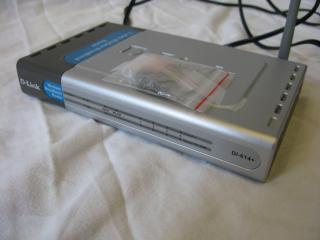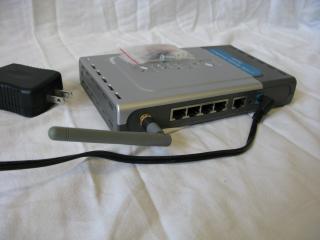 This is a used DLink DI-614+ Wireless access point. It supports 802.11b WiFi connections. It also has four 10/100 wired connections.
I used this machine in my OS/2 office network for several years. It supports OS/2, Windows and Macintosh connections. It can be administered using an OS/2 web browser such as Firefox or SeaMonkey. The radio range was sufficient to reach my entire house and outside on the patio.
A printed Quick Installation Guide and a manual on CD-ROM are included.
Ordering
There is no charge for this access point. Fill out an order form and submit it to Blonde Guy. Blonde Guy will calculate your shipping charge and send you an invoice, payable using PayPal or any major credit card. This access point will ship immediately after the invoice is paid. When the access point ships, you will receive an e-mail with a tracking number to track your shipment.
Last Modified: 31 Mar 2009
Graphics by Colorful Language
Copyright 2009 by Blonde Guy