Gobopeep
New computer preloaded with eComStation 2.2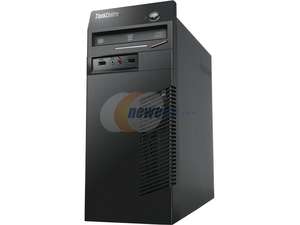 This is a new Lenovo ThinkCentre M72e desktop computer with eComStation 2.2 installed and configured. Sound, USB and wired network work. The display hardware is supported by Panorama. Lots of useful OS/2 software is installed.
Model name: Lenovo ThinkCentre M72e
Model number: 0958-B5U
Capabilities
The DVD writer can read and write dual-layer DVD media with an 8.4 GB capacity.
Connectors for sound and USB are provided on both the front and the rear of the computer for convenience.
A keyboard and mouse are included with the purchase. The included keyboard and mouse are USB, but the computer will support PS/2 connections for keyboard and mouse.
| | |
| --- | --- |
| CPU | Intel Pentium Dual-Core Processor G2120 |
| Memory | 2 GB but eComStation recognizes only 512 MB |
| Hard Disk | 500 GB 7200 RPM SATA |
| Graphics | Intel HD |
| Optical Drive | DVD Recordable |
| Ethernet | Realtek 8111E PCI-E Gigabit Ethernet |
| USB 2.0 Ports | 2 front panel, 4 rear panel |
| PS/2 Ports | one mouse, one keyboard |
| Legacy ports | 1 serial, 1 parallel |
| PCI Express slots | 2 x1 and 1 x16 |
Fixes
Fixed DOS Window as follows
Q: When I try to start a DOS or Win16 window, I get a popup message saying that the video mode is not supported. What do I do?
Edit your CONFIG.SYS file and locate the line which loads VSVGA.SYS. Add the following switch to the end of the line:
/int10textgrfxsafe
You also need to edit AUTOEXEC.BAT and add the following lines to the end of the file:


mode co80
cls

Fix for sound not detected. Installed UniAud anyway, but then remark out drivers in config.sys
Installed UniaudUpdate-1.09.06-2.02.01.zip
Sound comes from the built-in speaker unless UniMix is used to switch to the external speakers.
Content of extspeak.cmd

/* turn on the external speakers */
'unimix -set -id11 -cnt0 -val31'
'unimix -set -id11 -cnt1 -val31'
'unimix -set -id12 -cnt0 -val1'
'unimix -set -id12 -cnt1 -val1'

/* turn off internal speakers */
'unimix -set -id3 -cnt0 -val0'
'unimix -set -id3 -cnt1 -val0'
'unimix -set -id4 -cnt0 -val0'
'unimix -set -id4 -cnt1 -val0'

/*  play startup sound */
call play 'file=C:\MMOS2\SOUNDS\DESKTOP\DSK_STRT.WAV'

There is a deadly bug in the SAMBA client. Replace c:\ecs\dll\ndpsmb.dll with the current version before using any SAMBA server.
The USB mouse and keyboard do not work well on first boot. Reseting the KVM, unplugging mouse and keyboard, rebooting all work to some extent to get them working again. Starting with USBHCD release 11.05, I no longer see this problem.
Defects
Although 4 GB RAM is installed, the computer will only recognize 512MB due to hardware limitations.
While the computer comes with Windows 7 and disks for Windows 8, neither of these currently works with eCS on the same hard disk. The computer comes with only eComStation.
Until eCS 2.2 actually ships, this computer will ship with a pre-release copy of eCS 2.2.
Not Included
None of the following items are included: monitor, speakers, ethernet cable, printer cable, USB cable.
Software
Suntan Special is included with each computer. All applications that are pre-installed by Blonde Guy can be kept up to date using Suntan Special.
Power Consumption
This computer is quite efficient. Power consumption is 34 Watts, measured with the computer booted to the desktop. This computer also consumes less than 1 Watt if it's plugged in, but switched off.
Disk Layout
The disk is partitioned to provide two bootable partitions, one for normal use and one for maintenance use. User data and programs are stored on separate volumes. The data and programs volumes can be expanded from the free space.
| | | | | |
| --- | --- | --- | --- | --- |
| Volume Name | Disk Format | Drive Letter | Volume Size | Disk Name |
USB Capabilities
This computer has been tested with the following USB peripherals:


USB Floppy drive
PNY 16 GB thumb drive
Toshiba 500 GB portable hard drive
das keyboard
Logitech mouse
Benchmarks
SysBench 0.9.5 benchmarks for this computer. You can download SysBench 0.9.5 here: http://hobbes.nmsu.edu/
| Category | Measurement |
| --- | --- |
| PM-Graphics-marks | 162 |
| CPU integer-marks | 5856 |
| CPU floating point-marks | 818 |
| DIVE-marks | 5917 |
| File I/O-marks | 49921 |
| Memory-marks | 16339 |
| Simultaneous I/O-marks | 2 |
| Disk I/O-marks | 601 |
| CD I/O-marks | 111 |
eComStation
This computer comes with a license for eComStation 2.2 and six months of Software Subscription Services. If you already have a license for eComStation 2.2, check the box on the order form for the eCS 2.2 license holder discount.
Suntan Special
Suntan Special was used to install and configure software on the computer. A license for Suntan Special software is included with the computer. You may use Suntan Special to download and install updates to the system and its applications and to install additional applications.
Ordering
To buy this computer, press the Order button to bring up an order form. Fill out and submit the order form. Blonde Guy will review your order and send you an invoice, payable using PayPal or any major credit card. If you prefer to pay by check, note that in the notes field of the order form, and I will e-mail you an invoice payable by check.
Before ordering this computer, please read the description carefully. I want and appreciate your business, but I also want you clearly understand what I am offering for sale. If you have questions, you may enter them in the notes portion of the order form.
This computer available to order. After payment is received, I will order, build, test and ship the computer. When the computer is shipped, you will get a tracking number for shipment.
The final price of the computer depends on tax, shipping and coupons.
Last Modified: 21 Oct 2013
Graphics by Colorful Language
Copyright 2013 by Blonde Guy