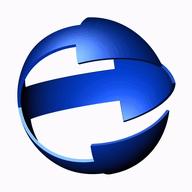 eComStation 2.1
eCS 2.1 was released in May 2011. eComstation is a reliable and secure operating system, originally based on IBM's OS/2 Warp, which delivers a proven virus free, no-downtime operating environment both for personal desktop use and industry needs where reliability is paramount.
eComStation preloaded computers
For customers who have standardized on eComStation, Blonde Guy can maintain their investment with computers designed to run eComStation.
Each computer comes preloaded with eComStation 2.1, Arca Noae Drivers and Software, Suntan Special, OpenOffice.org and other useful programs. Suntan Special provides updates to keep your system and applications up to date.
eComStation preloaded computers Desktop and laptop computers pre-loaded with eComStation.
eComStation 2.1
eComStation 2.1 is sold as Electronic Software Distribution (ESD) only; mediapacks are available seperately. The mediapack is a set of three CD-ROMs, Operating System, Bonus Pack and OpenOffice.org 3.2 with a printed manual in a plastic case. Please note that for ESD you need to download about 700 MB and need to burn the ISO files on CD.
Home & Student Edition
The Home & Student version can be used by any private user who has up to 3 licenses installed.
Business Edition
Users who do not qualify for Home & Student are required to purchase the Business Edition.
Media Pack
Media packs are available separately. At this time, Blonde Guy no longer has inventory of Media Packs. Media Packs will be shipped from the European distributer.
eComStation 2.1 licenses and media packs Comprehensive list of available eComStation licenses, support subscriptions and media packs for the English language.
Software Subscription Services
eComStation 2.1 users have the option of purchasing a software subscription for their product. This entitles them to any new features and enhancements made available over the course of the subscription. For eComStation this includes any new updates and releases, when published within the subscription period.
Software Subscription Services Step by step instructions for accessing your entitlements under Software Subscription Services.
Interview with Blonde Guy
Blonde Guy interview from 2013, when eComStation was still under active development.
Blonde Guy Interview Questions and answers about Blonde Guy support for eComStation.
Last Modified: 19 Mar 2019
Graphics by Colorful Language
Copyright 2019 by Blonde Guy