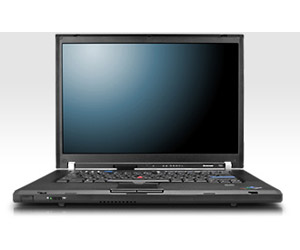 Specifications
Model name: IBM Thinkpad T61p (6457-Y74)
CPU: Intel Core 2 Duo T9300 (2.5 GHz)
RAM: 3.0 GB Memory
Disk Drive: 250 GB 7200 RPM (upgrade to 500 GB available)
15.4 inch Color LCD screen with WXGA resolution (1680 x 1050 pixels)
Intel Pro/1000 PL Ethernet Controller using E1000E driver
Intel 3945 Wireless 802.11 a/b/g network adapter using GenMac driver and XWLAN
Intel audio with line out and line in using UniAud driver
3 USB 2.0 ports using IBM USB drivers
IBM Ultrabay DVD-RW using RSJ CD-Writer and/or CDRTools
1 PCCard slot using IBM PC Card services (Texas Instruments PCI-1510)
AC Power adapter
User Manual
Bootable maintenance partition
Restore DVD with network support. A script is provided to create your own bootable CDs using RSJ and bootAble.
Physical Dimensions
Height: 1 inch
Width: 14 inches
Depth: 10 inches
Weight: 5 lbs 2 oz
Power Consumption
Power consumption is 52 Watts (60 Watts in SMP), measured with the computer is booted to the desktop. This computer consumes less than a Watt if it's plugged in, but switched off.
Disk Layout
The disk is partitioned to provide two bootable partitions, one for normal use and one for maintenance use. User data is stored on a separate volume.
This is the layout for a 250 GB drive.
| | | | |
| --- | --- | --- | --- |
| Volume Name | Disk Format | Drive Letter | Volume Size |
This is the layout for a 500 GB drive.
| | | | |
| --- | --- | --- | --- |
| Volume Name | Disk Format | Drive Letter | Volume Size |
USB Capabilities
This computer has been tested with the following USB peripherals:
Polaroid 4 GB thumb drive
Canon G9 camera
Toshiba 500 GB external hard drive
Logitech keyboard
Logitech scroll wheel optical mouse
Performance Benchmarks
This table reports the SysBench 0.9.5 benchmarks for this computer. You can download SysBench 0.9.5 here: http://hobbes.nmsu.edu/
| Category | Measurement | eCS 2.2 | 2 cpu |
| --- | --- | --- | --- |
| PM-Graphics-marks | 99 | 57 | 57 |
| CPU integer-marks | 4934 | 2333 | 2331 |
| CPU floating point-marks | 384 | 170 | 172 |
| DIVE-marks | 1754 | 1121 | 1133 |
| File I/O-marks | 34237 | 37175 | 36738 |
| Memory-marks | 6142 | 2836 | 2842 |
| Simultaneous I/O-marks | 27 | 25 | 25 |
| Disk I/O-marks | 393 | 385 | 382 |
Last Modified: 16 Jan 2012
Graphics by Colorful Language
Copyright 2012 by Blonde Guy