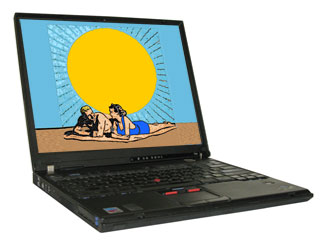 Ordering
To buy this computer, fill out an order form and submit it to Blonde Guy. Blonde Guy will review your order and send you an invoice, payable using PayPal or any major credit card. If you prefer to pay by check, note that in the notes field of the order form, and I will e-mail you an invoice payable by check.
Before ordering this computer, please read the description carefully. I want and appreciate your business, but I also want you clearly understand what I am offering for sale. If you have questions, you may enter them in the notes portion of the order form.
This computer is in stock, and will ship immediately after the invoice is paid. When the computer ships, you will receive an e-mail with a tracking number to track your shipment.
This computer can be ordered two ways. Use the base form if you already have an OS/2 or eComStation license or you qualify for an academic discount. This will allow you to get credit for software you already own. The final price of the computer depends on tax, shipping and discounts for user-supplied software and support licenses. Base price: $799.00.
Software bundle price: $999.00. This includes Pobopeep, the eComStation license and OpenOffice.org Support agreement for 12 months. This is the least expensive way to buy the computer if you have no OS/2 or eComStation licenses.
Last Modified: 8 Apr 2009
Graphics by Colorful Language
Copyright 2009 by Blonde Guy