Desktop computer (Umbopeep)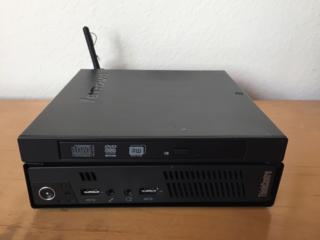 This used desktop computer is compatible with ArcaOS. It features an Intel i5 dual-core processor, 8 GB RAM and a 500 GB hard drive. A 2 TB solid-state hybrid hard disk is an optional upgrade.
This computer is configured to boot ArcaOS. No Windows is installed, nor are instructions provided to install Windows without harming the ArcaOS installation.
ArcaOS installation
A boot menu offers either the ArcaOS installer, located on drive X: or the ArcaOS operating system, located on drive J:. A generous amount of free space is available for operating system installation.
Build Notes
This section documents what I did to get this computer to work under ArcaOS. It is intended to show what goes into this computer, and also as a guide to the user who wants to build it himself.
Driver Notes
Only 512 MB RAM are available using the IBM OS/2 Loader. Using the ArcaOS Loader 3437 MB are available. The balance of the 8 GB RAM can be used as a RAM drive.
The network driver is MultiMac32-E1000. The wireless network has no OS/2 support. According to the Arca Noae roadmap, a driver and supporting software will be written for this hardware.
I used OS2AHCI for disk support, so the computer BIOS should have the disk support set for AHCI.
Arca Noae USB stack 11.17 works well with Lars Erdman's USB Audio driver and a Trond USB audio adapter.
To get the USB audio driver to work, I used version 223. I installed ArcaOS with no sound driver. Then I installed the USB audio driver, then the WAV audio driver. It can be tricky to get the audio driver to work.
ArcaOS Installation
I installed ArcaOS on drive J: with minimal options. Most programs were added by Suntan Special afterward.
DOS window sessions work after this:
add /int10textgrfxsafe to vsvga.sys device driver in config.sys
add mode co80; cls to autoexec.bat
I installed Suntan Special, I run Suntan Special sequences ArcaOS50, apps, games and cleanup. This is saved as the Factory image. This is normally what would be supplied on the computer.
Sound support is great using the default UniAud except that the sound comes only from the built-in speaker, and nothing from the front headphones. So external speakers are not going to work with Uniaud. To fix this, I uninstalled Uniaud and replaced it with Lars Erdmann's USB Audio driver and a Trond USB sound adapter. Sound works very well.
Capabilities
The computer is set up to connect via ethernet cable. The network interface has been set up to configure automatically.
The USB 2.0 ports support keyboards, mice, scanners, thumb drives, cameras, MP3 players, external hard drives, floppies and CD Writers.
The DVD drive can read and write DVD and CD media.
Software
Operating system: ArcaOS 5.0.3.
Suntan Special is included with each computer. All applications that are pre-installed by Blonde Guy can be kept up to date using Suntan Special.
Apache OpenOffice is installed. OpenOffice has good compatibility with Microsoft Office documents.
QPDFView and Lucide are installed.
Computer maintenance programs include Suntan Special, a trial version of DFSee, Sysbench to measure the speed of the computer, PCI to scan the system hardware and SystemInfo to view the entire computer configuration.
RPM/YUM, a software configuration framework, is installed. Suntan Special acts as a layer over RPM/YUM to replace the detailed knowledge of how to install and configure software using YUM with pre-packaged application installations.
The FAT32 file system is installed.
Firefox and Seamonkey web browsers are installed. For the Mozilla family browsers, the Flash plugin is installed, but off by default. Qupzilla web browser, based on Qt and the Apple Web Kit is also installed.
Thunderbird and PMMail are installed to provide a choice of e-mail client program.
Java (OpenJDK 6.00) is installed. The browser support (Iced Tea) is not installed.
VLC media player is installed to play back most video file types and some commercial DVDs.
A trial version of RSJ CD-Writer is installed to provide DVD and CD writing. Continued use requires a license. Blonde Guy will install your current RSJ license if you provide it on the order form.
PM123 music players are provided to support music needs. The CD Player is correctly configured to play music CDs. Generic MP3 players that connect via USB are supported.
Cameraderie provides support for digital cameras.
I use rsync, which is a mirroring program, to keep several copies of my data drive. The rsync program copies only files that have changed, added or removed when it updates a copy of the data drive.
4os2 provides an alternative to the OS/2 command prompt with more features.
A number of fonts are added. Thanks to Alex Taylor for developing some OS/2 specific fonts. Liberation and Deja Vu fonts are also added to support some programs.
Arca Noae Package Manager is installed to manage RPM/YUM
Suntan Special
I use Suntan Special to install the software on all Blonde Guy computers. Suntan Special software can be used to install all updates to the system and its applications and to install additional applications. When newer versions of software are released, Suntan Special can keep your Blonde Guy computer up to date.
Suntan Special was used to bring the system up to date on May 19, 2019.
Recovery DVD
The recovery DVD supplied is a modified bootable ArcaOS DVD with a backup of the hard drive as delivered. You can boot the machine from DVD, and perform maintenance functions. The factory backup is stored in the \image\Factory directory. The backups are simple zip files. You can use unzip to extract some or all of the files in a backup.
DFSee
DFSee is a generic disk, partition and filesystem utility for maintenance and data-recovery. It supports partition tables (FDISK, LVM), FAT, FAT32, HPFS, NTFS, and partly JFS, EXT2/3 or REISER filesystems. DFSee is commercial software which requires a license key for continued use.
Specifications
Lenovo ThinkCentre M92p Tiny (Type 3238CD9)
Boot Manager: Air-Boot
Hostname: umbopeep
status: Ready to ship
CPU: Intel(R) core i5(TM) 3470T CPU @ 2.90GHz
RAM: 8.0 GB PC3-10600
Disk Drive: 500 GB 2.5 inch disk drive
optional upgradable to 2 TB solid state hybrid drive (SSHD)
Lenovo DVD-Multi rewritable drive
Intel Gigabit Ethernet using MultiMac32-E1000B driver
Intel audio with line out and line in (currently disabled by omitting uniaud driver)
USB Audio device with line out and line in using USBAudio support by Lars Erdmann
6 USB 2.0 ports (2 front, 4 back)
Bootable Recovery DVD
VGA port
DisplayPort
Physical Dimensions
Height: 7.2 inches
Width: 2.5 inches
Depth: 7.5 inches
Weight: 4.7 lbs
Power Consumption
Power consumption is 20 Watts, measured with the computer is booted to the desktop. With both cores at 100% load, the computer consumes 35 Watts. This computer consumes 1 Watt if it's plugged in, but switched off.
Photos
Front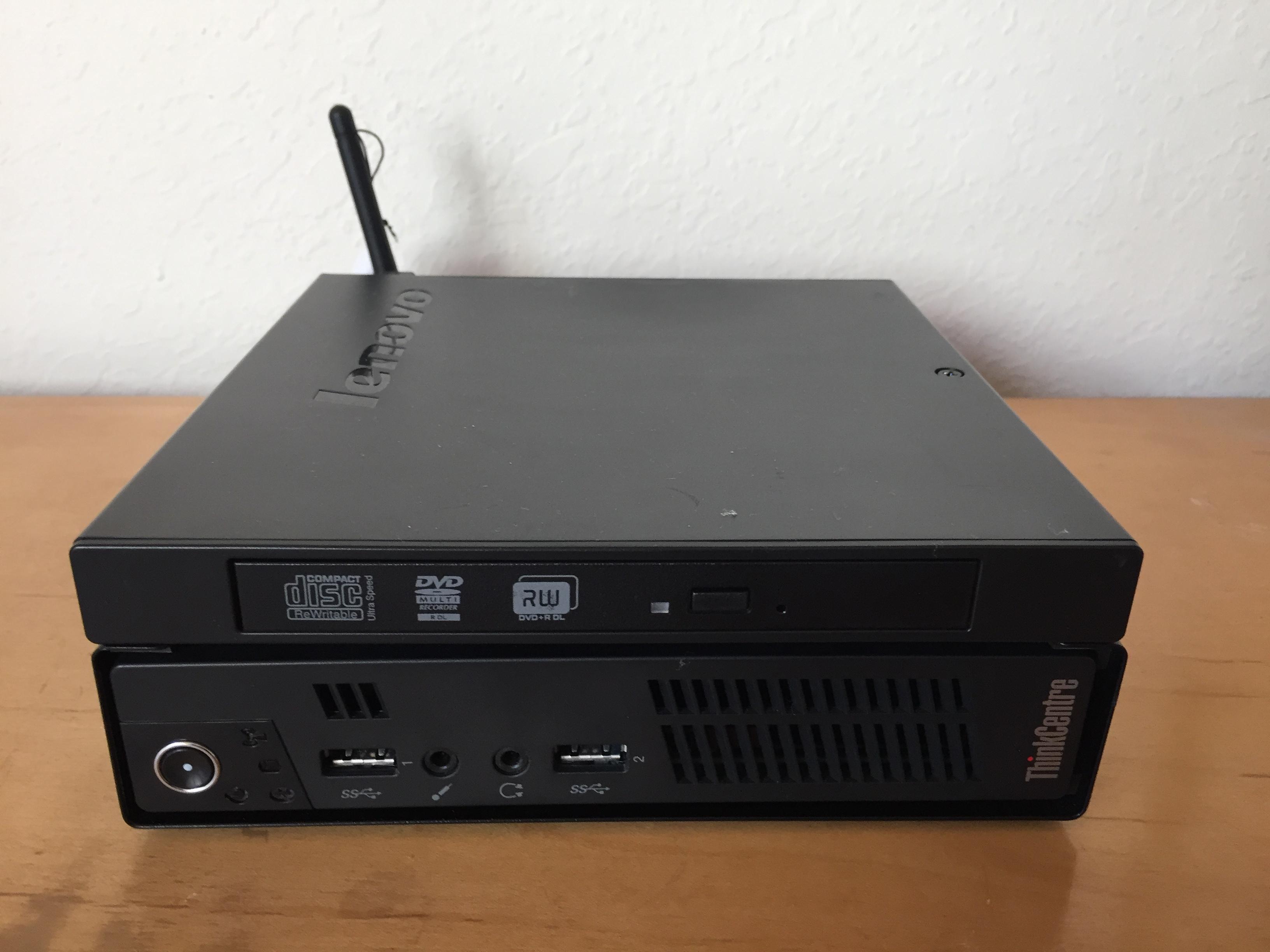 Back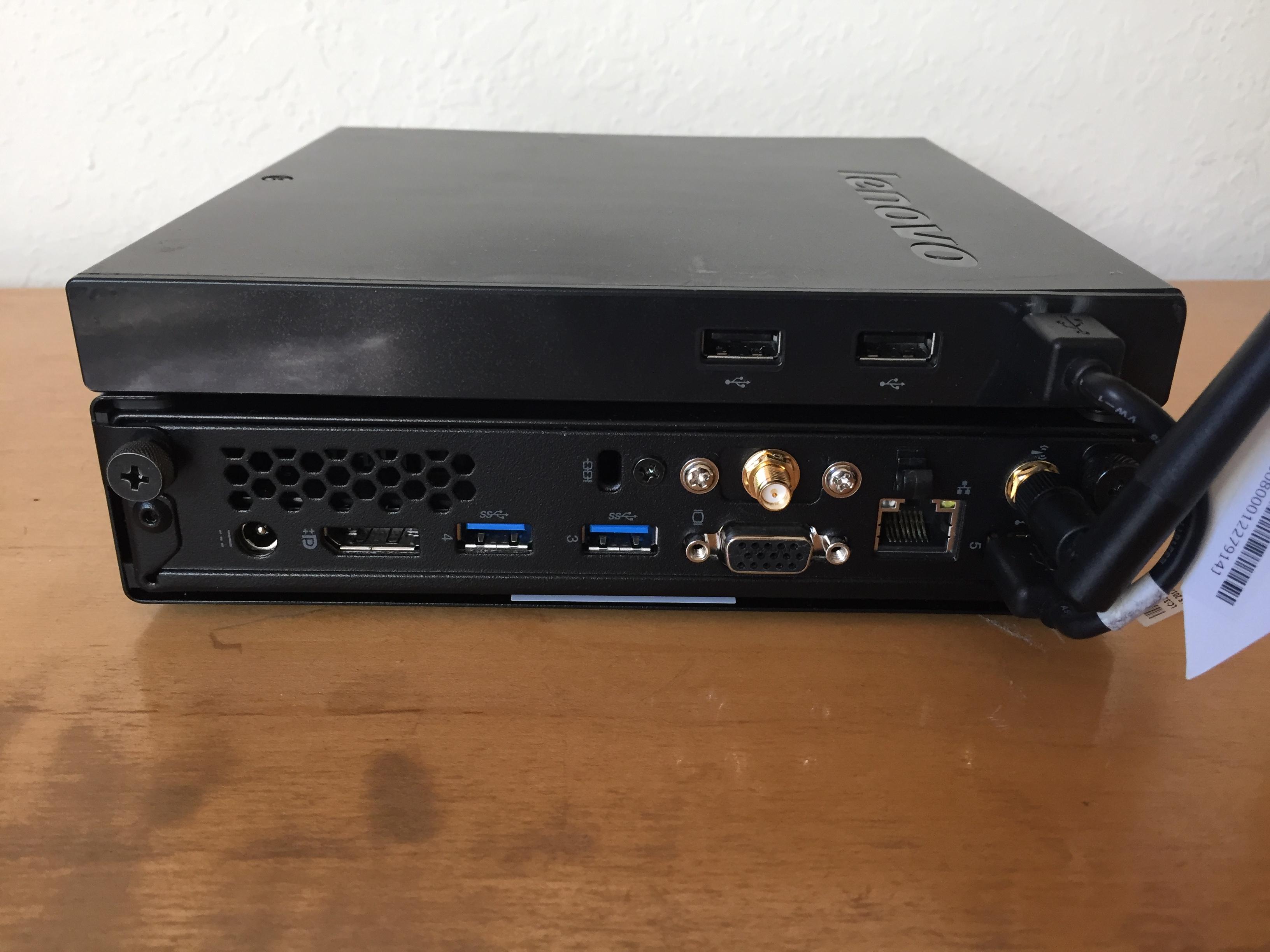 With monitor and keyboard to show the size.
The monitor, keyboard and speaker are for the purposes of illustration, and are not included with the computer.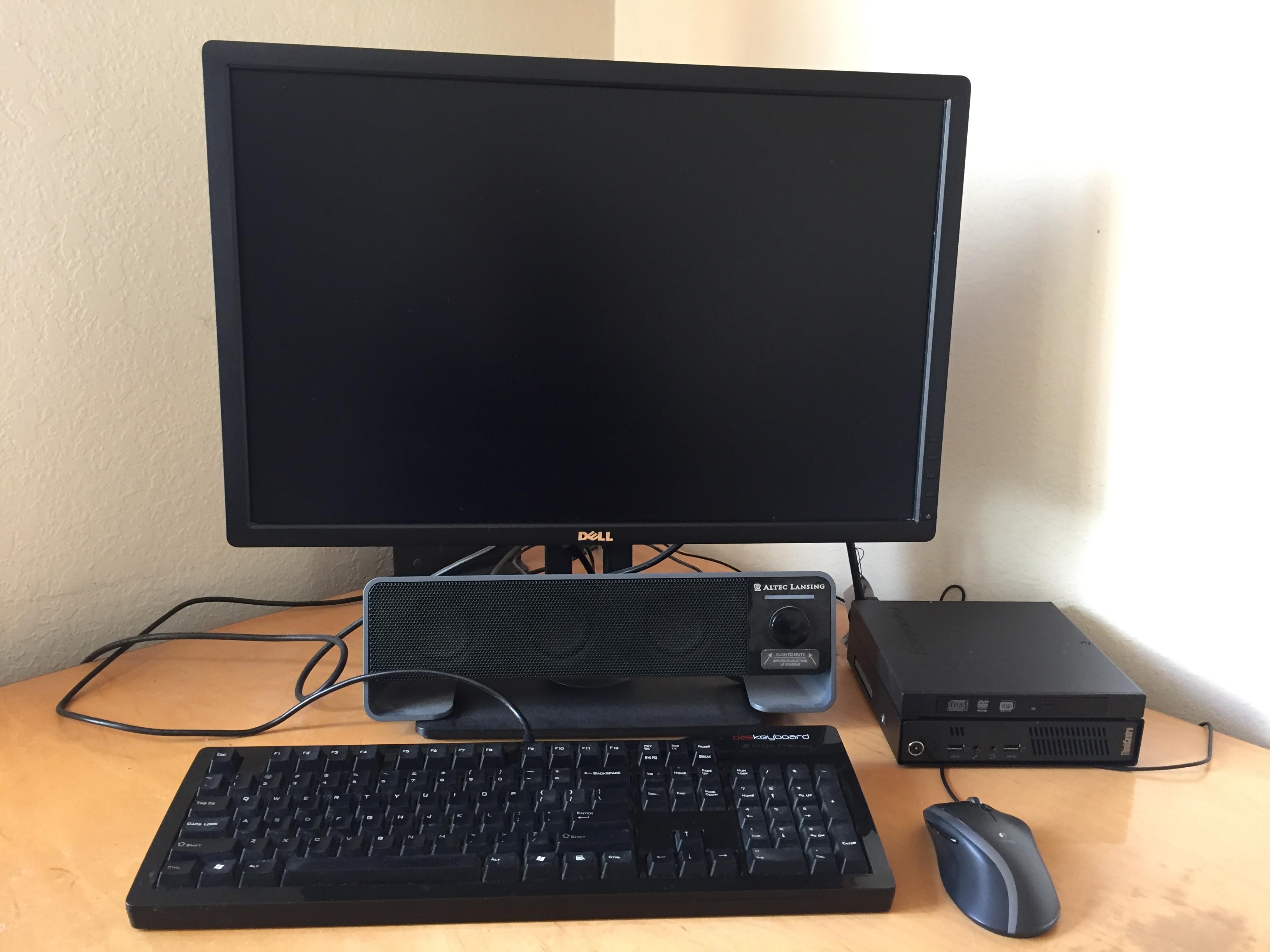 Disk Layout
The disk is partitioned into ArcaOS installer and ArcaOS volumes. You can use the ArcaOS volume (J:) as is, or you can create your own ArcaOS volume out of the free space.
This is the layout for a 500 GB hard drive.
| | | | | |
| --- | --- | --- | --- | --- |
| Volume Name | Disk Format | Drive Letter | Volume Size | Disk Name |
| ArcaOS inst | FAT16 | X: | 2,000 MB | 500 GB |
| ArcaOS data | JFS | D: | 20,002 MB | 500 GB |
| ArcaOS-J | JFS | J: | 20,002 MB | 500 GB |
| free space | N/A | N/A | 435,138 MB | 500 GB |
Performance Benchmarks
This table reports the SysBench 0.9.5 benchmarks for this computer. You can download SysBench 0.9.5 here: http://hobbes.nmsu.edu/
| Category | Measurement |
| --- | --- |
| PM-Graphics-marks | 148 |
| CPU integer-marks | 11959 |
| CPU floating point-marks | 986 |
| DIVE-marks | 7295 |
| File I/O-marks | 286264 |
| Memory-marks | 11876 |
| Simultaneous I/O-marks | 47 |
| Disk I/O-marks | 478 |
Ordering
To buy this computer, fill out an order form and submit it to Blonde Guy. Blonde Guy will review your order and send you an invoice, payable using PayPal or any major credit card. If you prefer to pay by check, note that in the notes field of the order form, and I will e-mail you an invoice payable by check.
If you have questions, you may enter them in the notes portion of the order form.
The final price of the computer depends on tax, shipping and options.
On the order form, choose the appropriate ArcaOS license. For a business, the commercial license is required, otherwise a personal license is fine. The personal license comes with a 6-month subscription for support and maintenance. The commercial license comes with a 12-month subscription.
Last Modified: 20 May 2019
Graphics by Colorful Language
Copyright 2019 by Blonde Guy