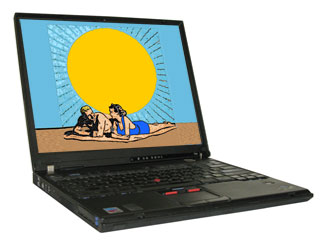 This IBM Thinkpad model is one of the most OS/2 compatible laptop computers recently manufactured. IBM Thinkpads are top quality laptop computers. The UXGA display has more than twice the number of pixels of standard XGA laptops. The UXGA screen (1600 x 1200) is the best in its class.
This laptop computer is configured to boot either Windows XP or eComStation. The eComStation installation provides as complete support as possible on a modern laptop.
The Suntan Special Advantage
Urbopeep comes with Suntan Special. I use Suntan Special to install the software on all Blonde Guy computers. Suntan Special software can be used to install all updates to the system and its applications and to install additional applications. When newer versions of software are released, Suntan Special can keep your Blonde Guy computer up to date.
Capabilities
I have supplied sufficient RAM to allow many programs to run at once, or support virtual machines.
The computer is set up to connect via ethernet cable or WiFi. Both interfaces have been set up to configure automatically.
The USB 2.0 ports support keyboards, mice, scanners, thumb drives, cameras, MP3 players, external hard drives, floppies and CD Writers.
The optional DVD multi-burner can read and write DVD media with an 4.7 GB capacity. Software to create bootable backup DVDs is included.
This laptop has a single PC Card slot, which supports OS/2 compatible PC Cards.
The Thinkpad T43p is lightweight and compact. Even plugged into the AC adapter, it consumes only 30 watts. Pentium Mobility CPU consumes less power than earlier Intel CPUs to extend battery life. IBM Advanced Power Management (APM) provides suspend/resume and battery power conservation. While the computer is running, you can close the lid to cause the computer to suspend to a low-power sleep state. When you open the lid, the computer will resume normal operation.
Defects
There is no eComStation support for the modem, bluetooth or fingerprint reader.
Windows XP
This computer has the Windows XP preload as supplied by IBM. Both Windows XP and the original IBM Rescue and Recovery may be selected from Boot Manager.
The Windows XP installation is the original IBM preload. When you first start Windows, it will run through its introductory screens, allowing you to name the computer and your user account and to select the administrator password.
IBM Rescue and Recovery can be used to maintain the Windows XP installation.
Software
Blonde Guy computers run the eComStation 2.0 GA release.
Suntan Special is included with each computer. All applications that are pre-installed by Blonde Guy can be kept up to date using Suntan Special.
The OpenOffice.org office suite is installed. OpenOffice has good compatibility with Microsoft Office documents.
The ePDF software has been installed to allow the creation of PDF output from any OS/2 application. Speaking of PDF, Acrobat Reader 5, Lucide, GSView and GhostScript are installed. The Acrobat Reader 5 is configured as a plugin for each of the installed browsers. Lucide is associated with desktop PDF objects.
Computer maintenance programs include eCS-MT, Suntan Special, a trial version of DFSee, Sysbench to measure the speed of the computer, SmartMon to asses hard drive condition, PCI to scan the system hardware and SystemInfo to view the entire computer configuration.
The Embellish graphics editor and a demo of the PMView graphics viewer are installed.
The FAT32 file system is installed.
A number of web browsers are provided: Firefox, PmW-Fx and Seamonkey. KompoZer, a powerful web page editor, is installed. Each browser has flash, java and acrobat plugins configured.
Thunderbird, PMMail and Polarbar Mailer are installed to provide a choice of e-mail client program.
Java 1.1, Java 1.3.1 and Java 1.4.2 are all installed to give a choice of Java platform. The Java 1.4.2 plugin is used in the browsers. Suntan Special allows you to change the java support in each browser individually.
PM123 and Z! music players are provided to support music needs. The CD Player is correctly configured to play music CDs. Generic MP3 players that connect via USB are supported.
Mr. Message is provided to allow participation with AOL Messenger users.
Night Vision provides a view of the night time sky and any location and time.
Software developers will appreciate SmartCVS and SmartSVN, which allow browsing of open source project source code at Netlabs and SourceForge. The Visual SlickEdit and med programmer's editors are provided. The gcc compiler, perl, WDSibyl and the OS/2 toolkit are installed.
Cameraderie and Fotoget provide support for digital cameras.
Last Modified: 26 Aug 2010
Graphics by Colorful Language
Copyright 2010 by Blonde Guy