Lenovo Thinkpad X200 (Arbopeep)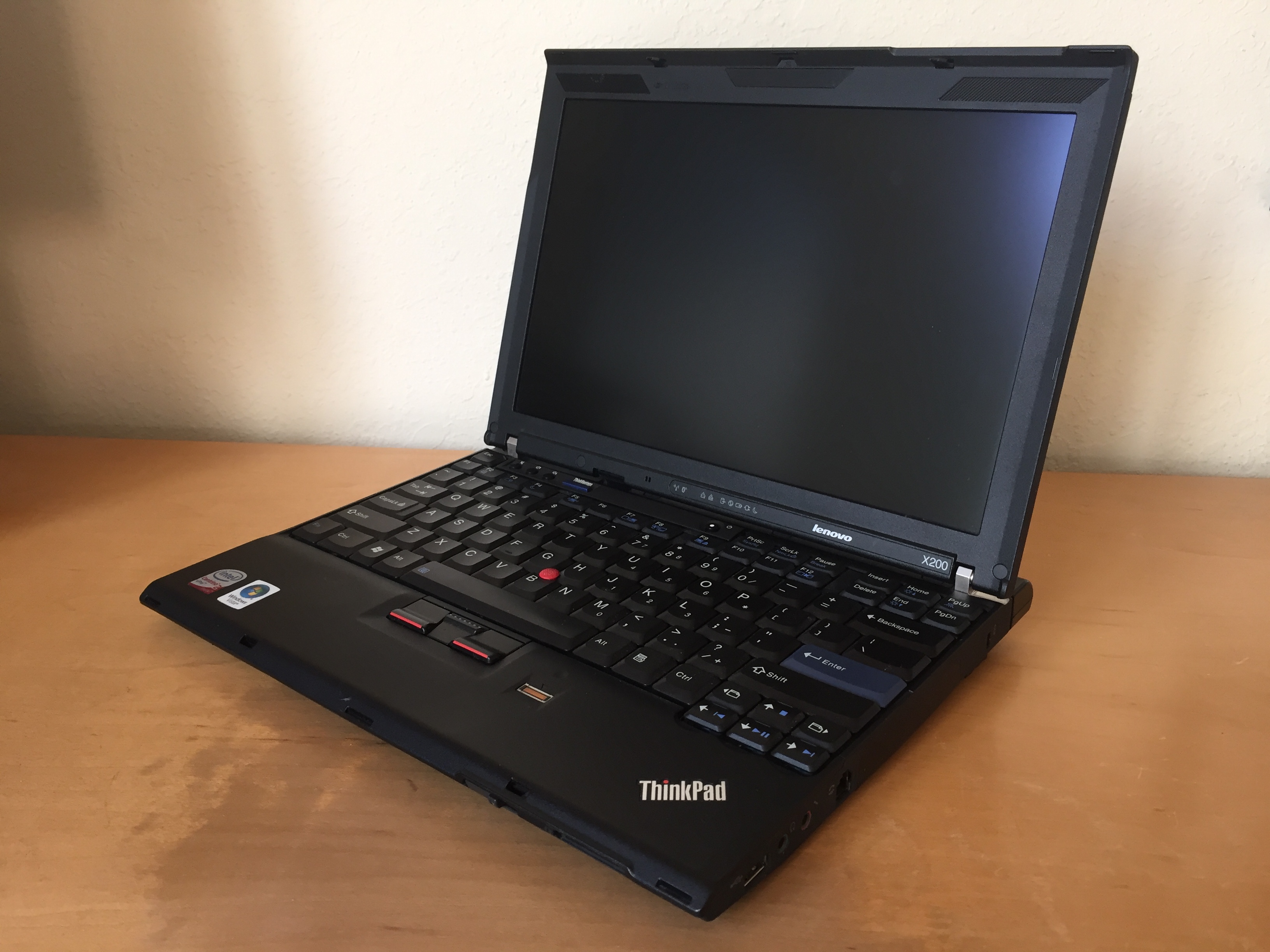 To buy this computer, select your ArcaOS license type and press "Add to Cart". Scroll down to Accessories to see optional items to add to this computer.
Overview
This IBM Thinkpad model is powerful, yet at 2.95 pounds, this computer is a light weight portable computer. It is small enough to fit nicely on an airline tray table. IBM Thinkpads are top quality laptop computers. The standard WXGA screen is the best in the class. The ArcaOS installation provides as complete support as possible on a modern laptop.
This laptop computer is configured to boot ArcaOS. No other operating system is installed, nor are instructions provided to install one without harming the ArcaOS installation. The ArcaOS installation provides as complete OS/2 support as possible on a modern laptop.
Accessories
These are some useful additions you can buy to customize this computer. If more customizations are needed see the section named Custom orders below.
External WiFi
This computer already has a built-in WiFi card. It's a good one, but the OS/2 WiFi software is pretty dated. If you'd rather have an up-to-date unit, this model is recommended. I use the VIX Mini Travel Router with this laptop to access local WiFi or my phone's hot spot. VIX Mini comes with everything you need to connect to an access point.
VIXMINI Travel Router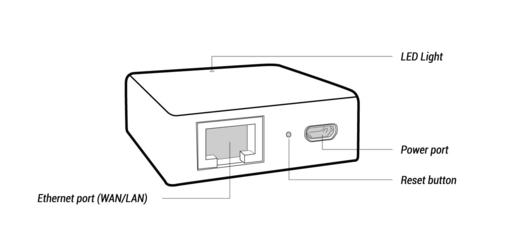 VIXMINI Travel Router: $49.00 USD
In the past, I have also used a TP-Link AC750 Wireless Travel Router, an Asus RP-N12 Wireless N300 Range Extender, and a TP-Link Nano Router. I include a folder of URL links to the admin pages of each of these routers to make it easy to set up the first time.
Instructions and details about external WiFi: Travel Routers
Dock
This computer is compatible with Thinkpad Ultrabase Dock 42X4963. ArcaOS cannot dock/undock a running computer. You must shutdown the computer when docking and undocking. The 42X4963 dock has 4 USB ports, VGA, Display Port, audio and Ethernet.
Lenovo Ultrabase Dock 42X4963 (coming soon)
Hard drive upgrade
The hard drive can be upgraded to a 2 TB drive. Either a hard disk or an SSD is available to upgrade.
Hard drive upgrade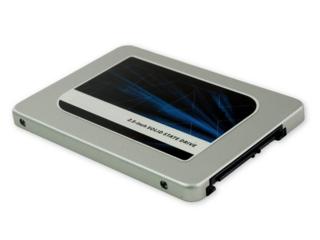 Custom Orders
If you want to buy a customized version of this computer, fill out an order form and submit it to Blonde Guy. Blonde Guy will review your order and send you an invoice, payable using PayPal or any major credit card. If you prefer to pay by check, note that in the notes field of the order form, and I will e-mail you an invoice payable by check.
Enter the customizations you want on the computer in the notes portion of the order form.
Specifications
Model: Thinkpad X200
Model number:
Year introduced: 2008
CPU: Intel P8700(2.53GHz)
Screen: 12.1 inch Color LCD, 1280 x 800 pixels
RAM: 4 GB
Hard drive: 160 GB SATA
Optional hard/solid state drive: 2000 GB SATA
Optical drive: None
Ethernet: Intel Pro/1000 PL 10/100/1000
WiFi: Intel 5100 802.11agn
USB Ports: 3
Physical Dimensions
Height: 0.8 inch
Width: 11.6 inches
Depth: 9.2 inches
Weight: 2.95 lbs (3.59 lbs with 9-cell battery)
Power Consumption
Power consumption is 16 Watts, measured with the computer booted to the desktop. This computer consumes less than 1 Watt if it's plugged in, but switched off. When charging a depleted battery, it consumes up to 45 Watts.
Disk Layout
The disk is partitioned into ArcaOS installer and ArcaOS volumes. You can use the ArcaOS volume (K:) as is, or you can create your own ArcaOS volume out of the free space.
| | | | | |
| --- | --- | --- | --- | --- |
| Volume Name | Disk Format | Drive Letter | Volume Size | Disk Name |
| ArcaOS Installer | FAT16 | X: | 2,000 MB | 160 GB SATA |
| ArcaOS-K | JFS | K: | 10,056 MB | 160 GB SATA |
| Data | JFS | D: | 130,565 MB | 160 GB SATA |
ArcaOS version
ArcaOS 5.0.3 was used for the K: installation. ArcaOS 5.0.3 was used for the P: installation.
Performance Benchmarks
This table reports the SysBench 0.9.5 benchmarks for this computer. You can download SysBench 0.9.5 here: http://hobbes.nmsu.edu/
| Category | Measurement |
| --- | --- |
| PM-Graphics-marks | 184 |
| CPU integer-marks | 8981 |
| CPU floating point-marks | 432 |
| DIVE-marks | 4373 |
| File I/O-marks | 29314 |
| Memory-marks | 7612 |
| Simultaneous I/O-marks | 56 |
| Disk I/O-marks | 263 |
Software
Preloaded Software
Each Blonde Guy ArcaOS preloaded computer comes with a standard load of software. This page lists what is in the current pre-load. This list is updated over time to incorporate new essential OS/2 software as well as to keep up to date versions of existing software. When you receive your ArcaOS preloaded computer, you will have Blonde Guy's best installation of the latest OS/2 software.
Recovery USB stick
The recovery USB stick supplied is a bootable ArcaOS USB stick with a backup of the hard drive as delivered. You can boot the machine from USB stick, and perform maintenance functions. The maintenance folder is available on the recovery USB stick. The factory backup is stored in the \Factory directory. The backups are simple zip files. You can use 7z or unzip to extract some or all of the files in a backup.
Build Notes
This section documents what I did to get this computer to work under ArcaOS. It is intended to show what goes into this computer, and also as a guide to the user who wants to build it himself.
BIOS settings
BIOS update
When I received the laptop, the installed BIOS was 2.04 and the EC was 1.04. The current BIOS is 3.22 and EC is 1.07. I updated the BIOS to 3.22 and the EC to 1.07 by using the BIOS update CD. The video displays on an external monitor without issues.
BIOS changes
I made the following changes to the default BIOS settings. Then I powered the Thinkpad down and up.
Power->Battery->Maximum Performance = Enabled
Power->Intel SpeedStep = Enabled
Config->ATAPI = AHCI
Hard drive upgrade
I installed a new 1 TB hybrid hard disk. This process is covered in a do it yourself (DIY) page. Note that I live in a damp climate where static electricity is not an issue. If you live someplace dry, learn to love your static wrist band.
Gather the laptop, hard drive caddy, hard drive and a phillips screwdriver.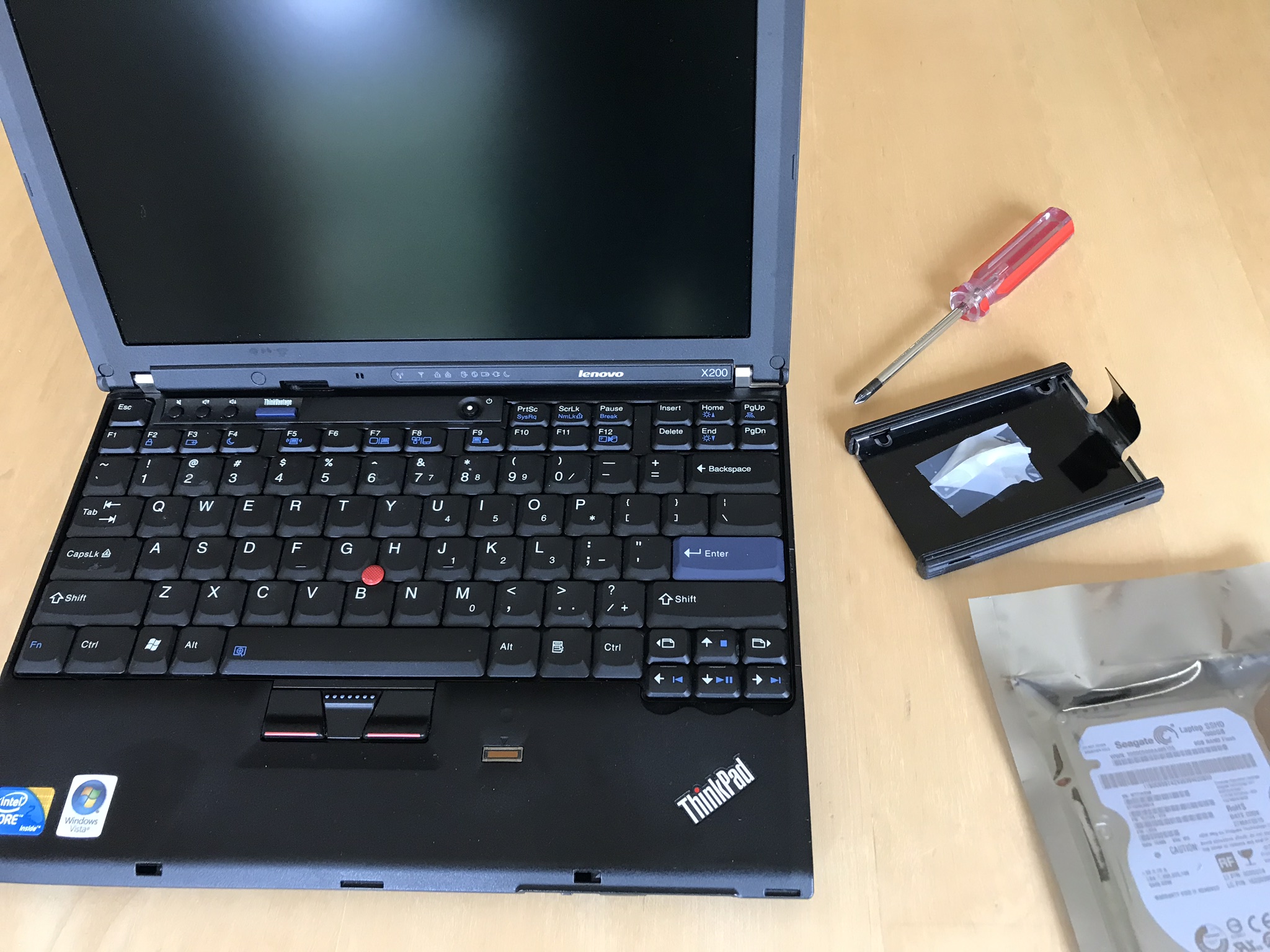 Take out the laptop battery, and unpack the hard drive caddy.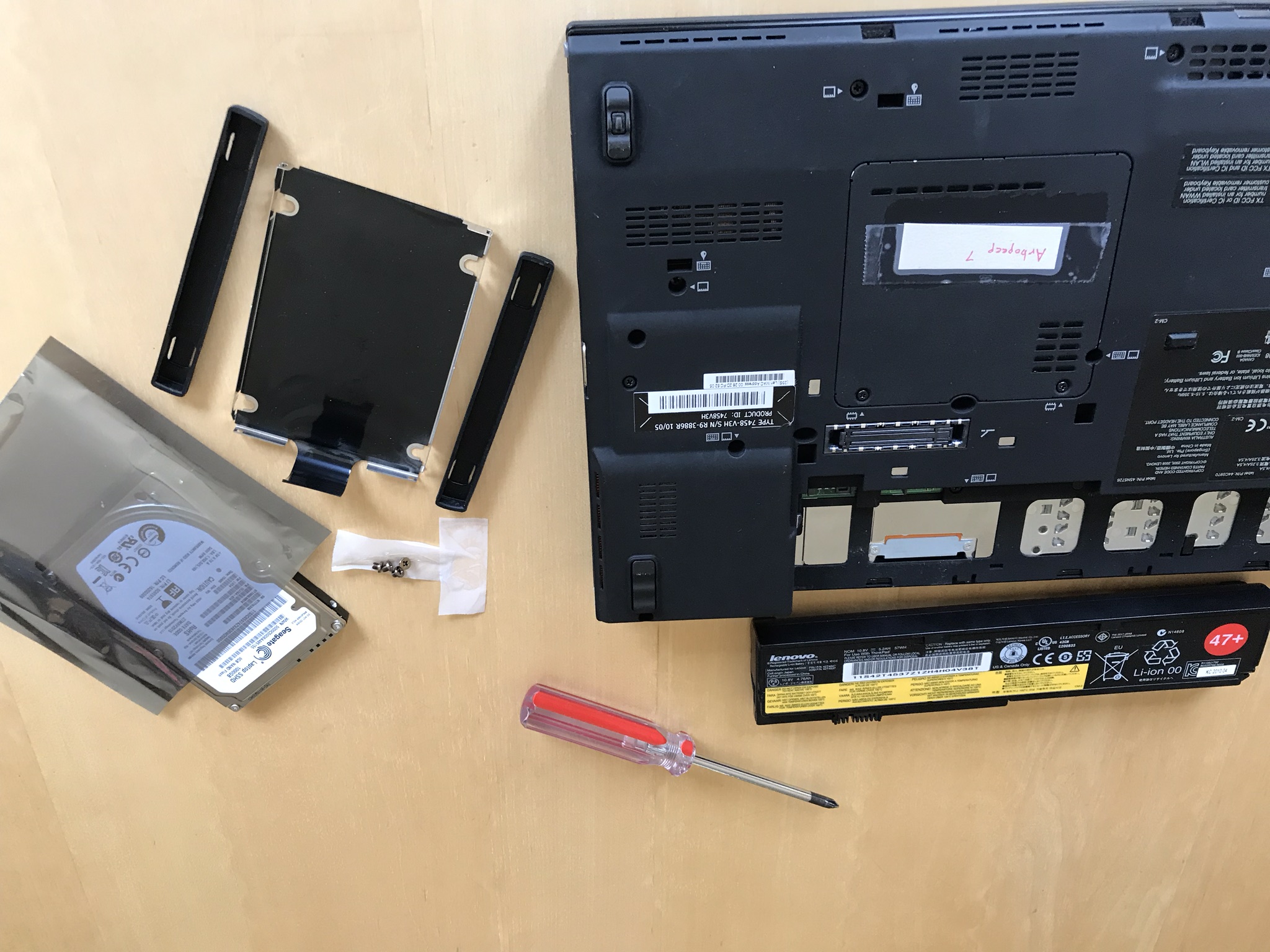 Unscrew the cover and remove the old hard drive.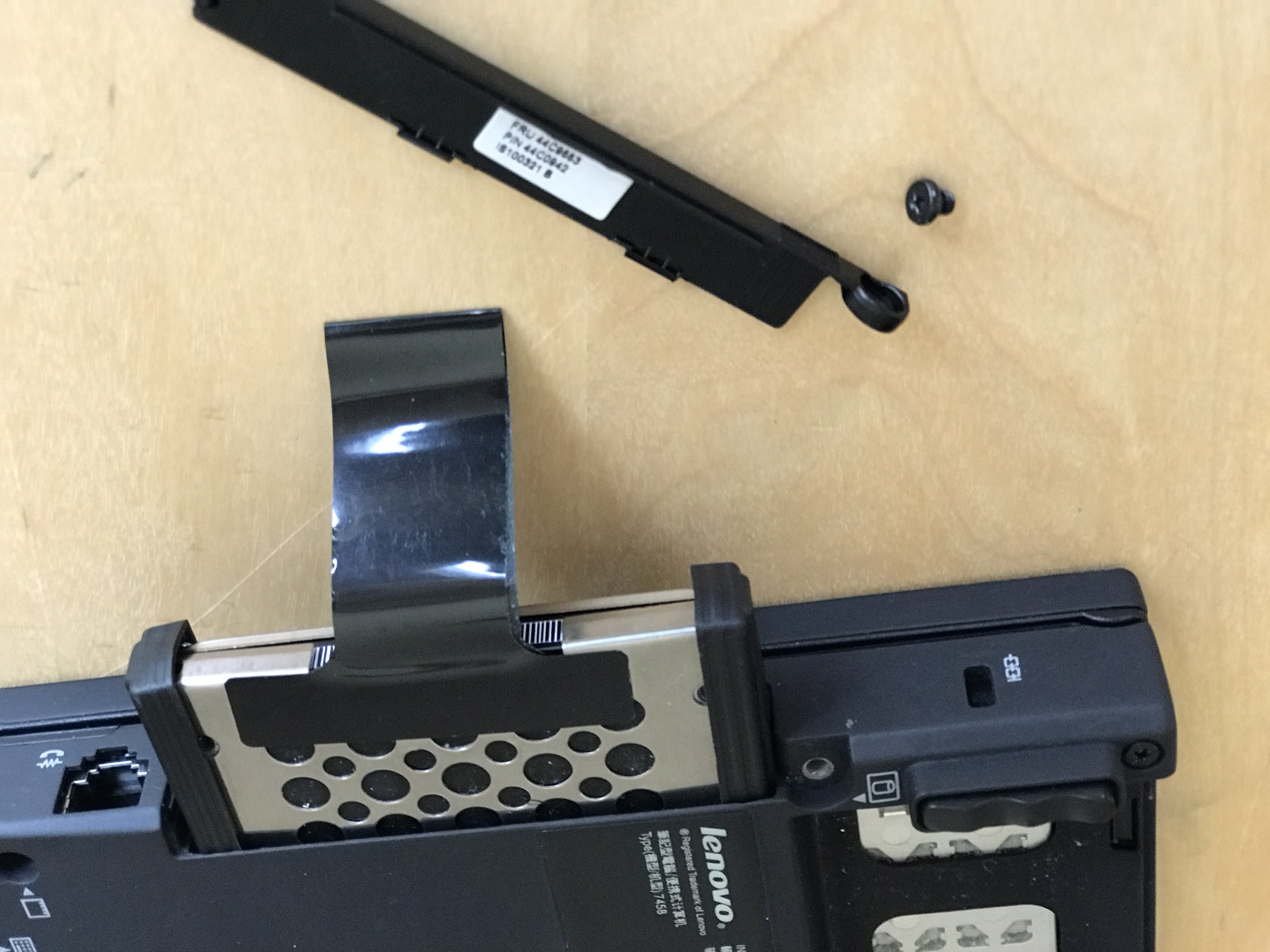 Screw the new hard drive into the caddy.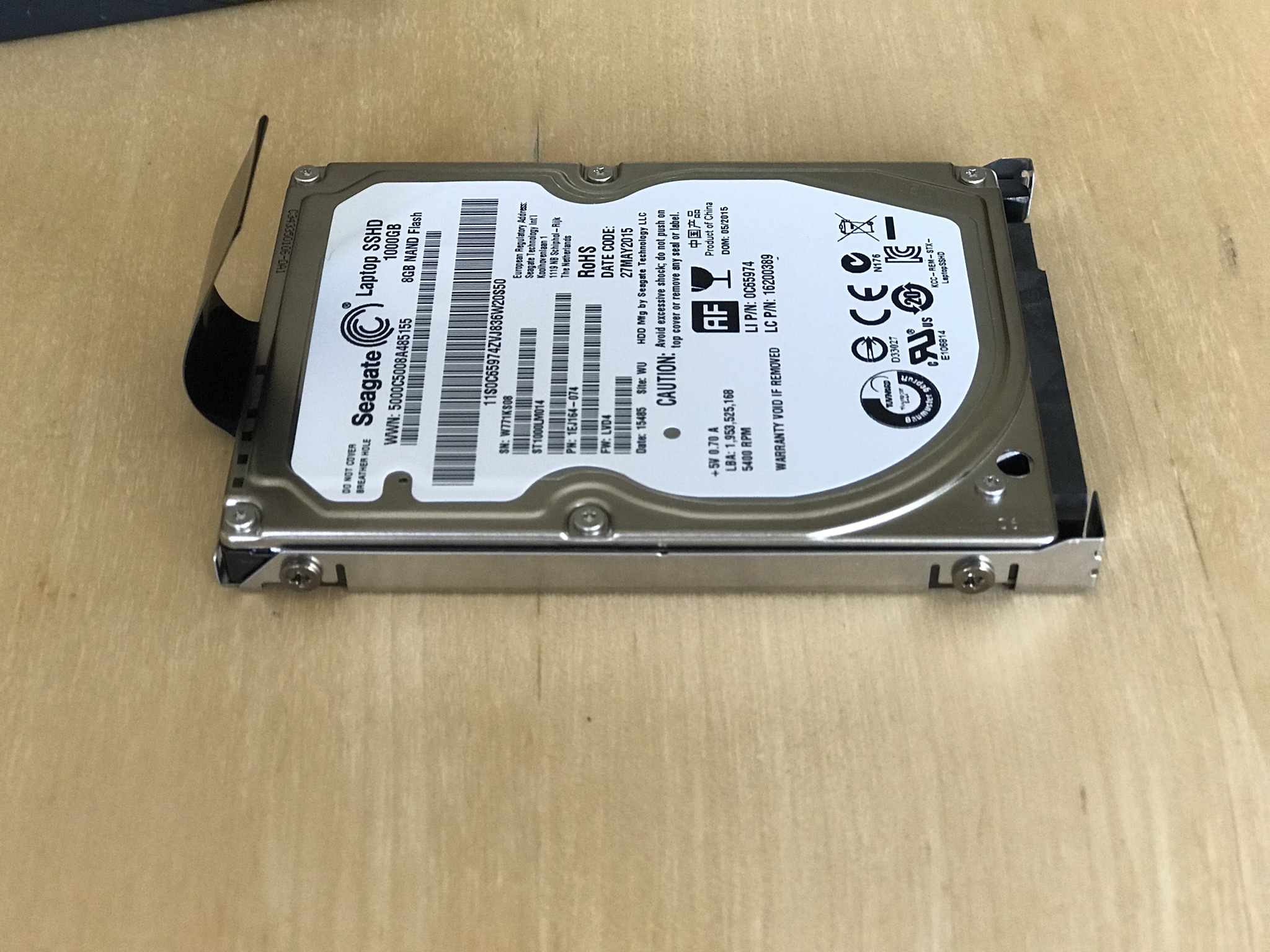 Attach the rubber drive mounts.
Reisntall the hard drive and screw the cover back on.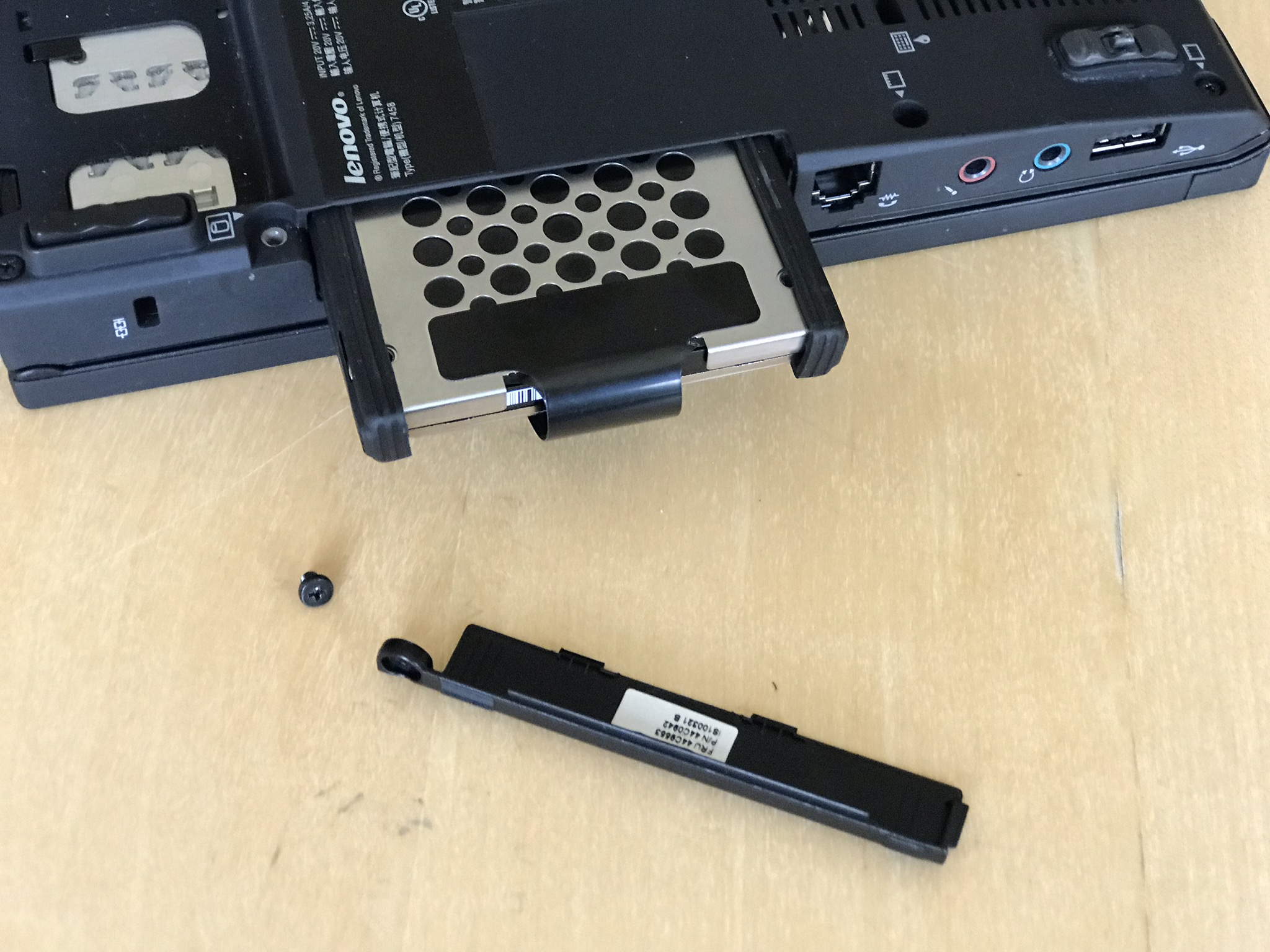 I booted from ArcaOS installation USB stick. To do this, I press the blue Thinkpad button, then select the USB stick to be the boot device. I select to install/maintain ArcaOS, and use default values. Once the installer boots, I select system management and run the Disk Utility. Because it is a new drive, the Disk Utility finds no partition table. I allow disk utility to fix the problem.
The system needs to reboot, and I follow the same procedure as above to boot from the USB Stick. The disk is now recognized with 953,855 MB. This time I select system management and run Manage Volumes (graphical). I create a primary installation volume of 1786 MB with drive letter X: for the installer, and installation and data volumes to suit myself. I installed the Boot Menu, saving changes.
ArcaOS installation
I then formatted the drives and restored my data to them. If you are restoring from backup, now you are done. If that isn't the case, I've included brief ArcaOS installation instructions.
I installed one bootable volume, K:. This installation is for a client only, but SAMBA server is included to permit file sharing.
DOS Window needs fixup. Added /int10textgrfxsafe to the line that loads VSVGA.SYS Also added mode co80; cls to autoexec.bat, now DOS Window works.
Using Suntan Special, I define an installation sequence that includes GenMac, GenMU, XWLAN, dhclient and wpa supplicant to provide full support for the WiFi card. The entire suite of Arca Noae drivers is installed with the operating system; only ACPI and FAT32 needed updates beyond that. After that I run Suntan Special sequences ArcaOS50, apps, games and cleanup. This is saved as the Factory image. This is normally what would be supplied on the computer.
Modified WiFi
The Thinkpad X200 WiFi is already the Intel 5100 mini-PCIe card. No other standard Lenovo card will work. Furthermore, the card must be Lenovo-approved or the Thinkpad will make an error on power on.
Actually, some Thinkpads come with the Intel 5300 mini-PCIe card. If you get one of those, buy an Intel 5100. Get the hardware maintenance manual, and see how to replace the 5300 with a 5100. One trick not listed in the hardware maintenance manual is that there are three antenna wires for the 5300, but only two for the 5100. I recommend connecting the grey wire to TR1 and the black wire to TR2 and leaving the white wire not connected.
The driver for the Intel 5100 WiFi card is from the GenMU unsupported collection. It works, but sometimes it will drop the connection. There are some special requirements for radio operation. Occasionally, the thinkpad will throw trap 0008.
BIOS has to be set to provide 100 percent power during battery operation. Speedstep must be enabled. The radio must be deactivated on startup by XWLAN, then started by enabling the radio from the XWLAN menu. The SSID appears to be required in the profile.
To use the WiFi, edit the XWLAN settings to deactivate the radio on startup. Using the switch on the front of the laptop, start the laptop with the radio on. Once booted, switch the radio off, then on again. Go to the XWLAN widget, and turn the radio on.
Capabilities
Arbopeep is configured to use a DVD Multi-burner in a dock. To use a USB DVD-RW, RSJ CD-Writer is required.
Photos
Front and Left
Right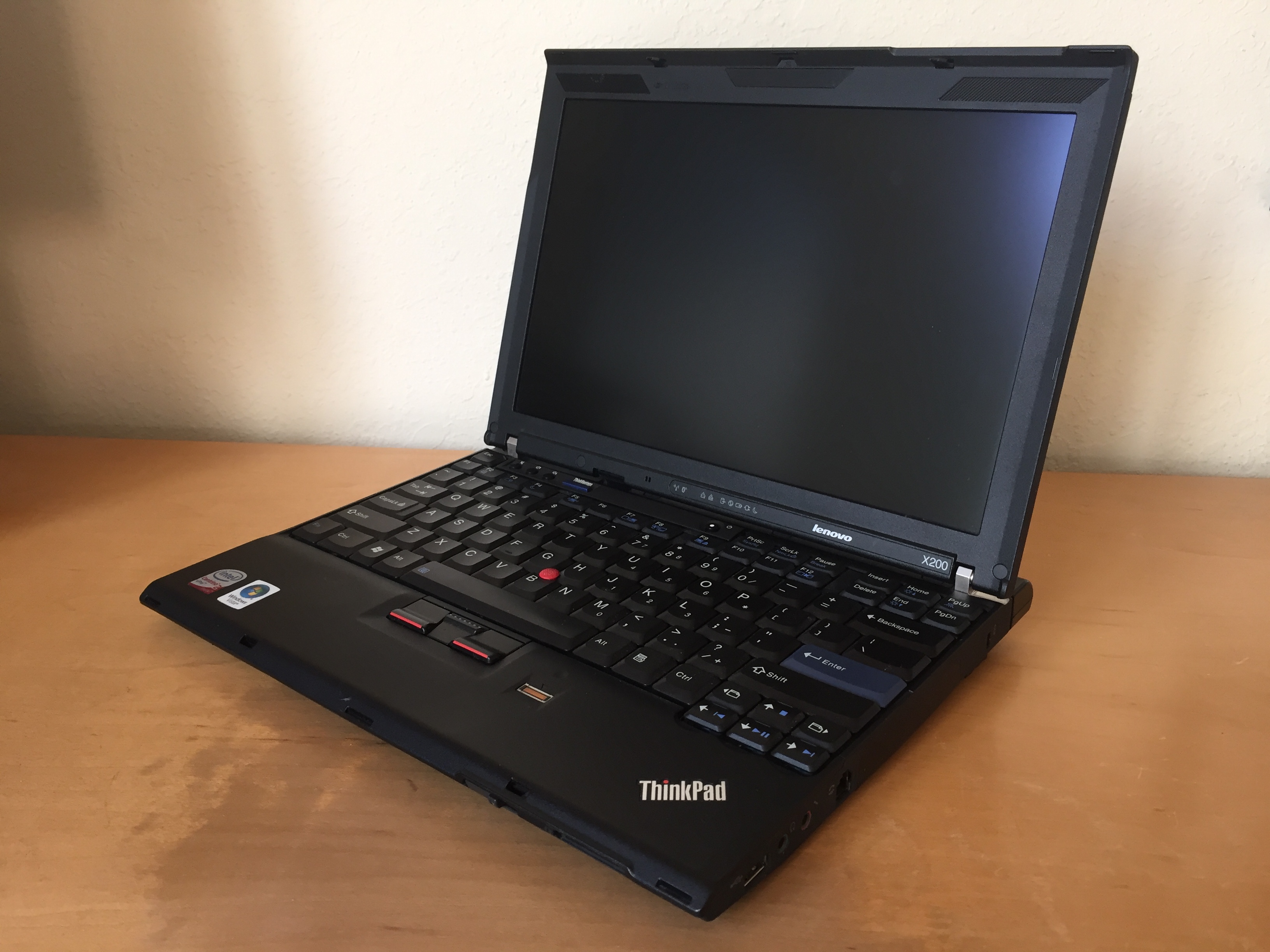 Back