Lenovo Thinkpad T540p (Strobopeep)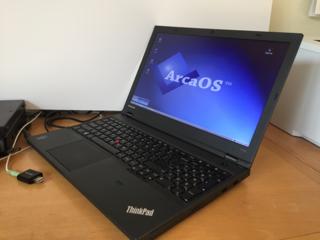 This IBM Thinkpad model is a desktop replacement, with powerful CPU and graphics and a DVD Writer. The VGA adapter is suited to an external monitor. The dock provides an easy way to take the computer with you and then later return to your desktop. The built-in screen has a screen resolution of 1920 x 1080, also known as FHD, and The IPS technology provides a display that is bright and clear.
This laptop computer is configured to boot ArcaOS. ArcaOS 5.0 has modifications specifically to support this computer. Nevertheless, Wifi and USB 3.0 are not yet supported. I have not been successful in getting any version of eComStation to run on this computer.
I have tested several T540p configurations. My ArcaOS installation DVD would not boot on a T540p that has the NVidia graphics. This Thinkpad, with Intel graphics boots the ArcaOS installation DVD with no problems. Thus, model number 20BE-004ENUS is suitable, and model number 20BE-003ENUS is not suitable. The two models are identical except for the graphics chip.
Support for an external WiFi router is installed.
Build Notes
This section documents what I did to get this computer to work under ArcaOS. It is intended to show what goes into this computer, and also as a guide to the user who wants to build it himself.
BIOS changes
The installed BIOS is 2.23 and the EC is 1.14. The current BIOS is 2.24 and EC is 1.07. I updated the BIOS to the current level with the BIOS update CD. The video displays on an external monitor without issues. I made sure that BIOS is set to Config->USB->USB 3.0 Mode = Disabled and Config->CPU->Intel (R) Hyper-Threading Technology = Disabled. Then I powered the Thinkpad down and up.
Hard drive preparation
I bought a 2 TB hard drive for Strobopeep, and installed it according to instructions in the Lenovo Hardware Maintenance Manual.
install new SSHD to Strobopeep
Using DFSee, change geometry to 127-255
Wipe the hard drive (first 0.5 percent is sufficient)
boot ArcaOS 5.0 CD and use diskutil to make new MBR
boot ArcaOS 5.0 CD and install ArcaOS from response file
configure Samba client to autoconnect to the Blonde Guy server
install Suntan Special and run strobopeep.seq
backup
create recovery DVD
ArcaOS Installation
I installed one bootable volume, K:. The K: drive has a Custom installation that is on the minimal side.
As of ArcaOS 5.0.2, sound is working normally on the laptop. Previously, to get audio to work, I added a Trond USB audio adapter. I use Lars Erdmann's USB Audio driver and USB Wave Multimedia support. I also modified MMPM2.INI to eliminate references to Uniaud, and to use USB Audio. Audio works well, but external speakers or headphones are required.
Driver=F:\MMOS2\UNIAUD32.SYS /A:1
A fix included in ArcaOS 5.0.1 does allow DOS Full-Screen to work. Alt-Home from a DOS Full-Screen then allows a DOS Window to work.
Using Suntan Special I run sequences ArcaOS50, apps, games and cleanup. This is saved as the Factory image. This is normally what would be supplied on the computer.
The disk driver, OS2AHCI.ADD, needs to have the following parameters or else boot will sometimes fail.
BASEDEV=OS2AHCI.ADD /N /F /V:2
External WiFi
There is not yet support for the internal WiFi. Instead, a TP-Link AC750 Wireless Travel Router is provided. Support for other external WiFi devices, the Asus RP-N12 Wireless N300 Range Extender, the TP-Link Nano Router, and the VIX Mini Travel Router is also provided.
Instructions and details about external WiFi: http://www.blondeguy.com/TravelRouters.html
TP-Link AC750 Wireless Travel Router
TP-Link Nano Travel Router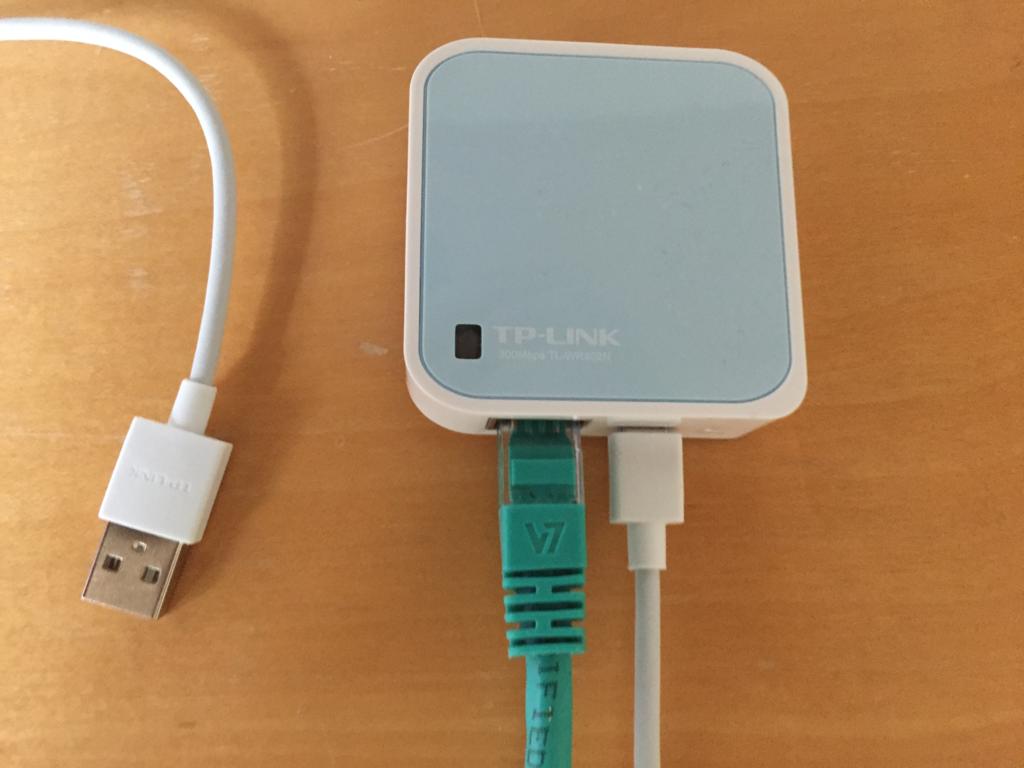 Asus RP-N12 Travel Router (front)
Asus RP-N12 Travel Router (rear)
USB Audio
For ArcaOS 5.0.2 and later, the built-in audio has OS/2 support. Earlier versions used an external USB Audio adapter provides audio support. Other than USB Audio, the standard Arca Noae stack is installed.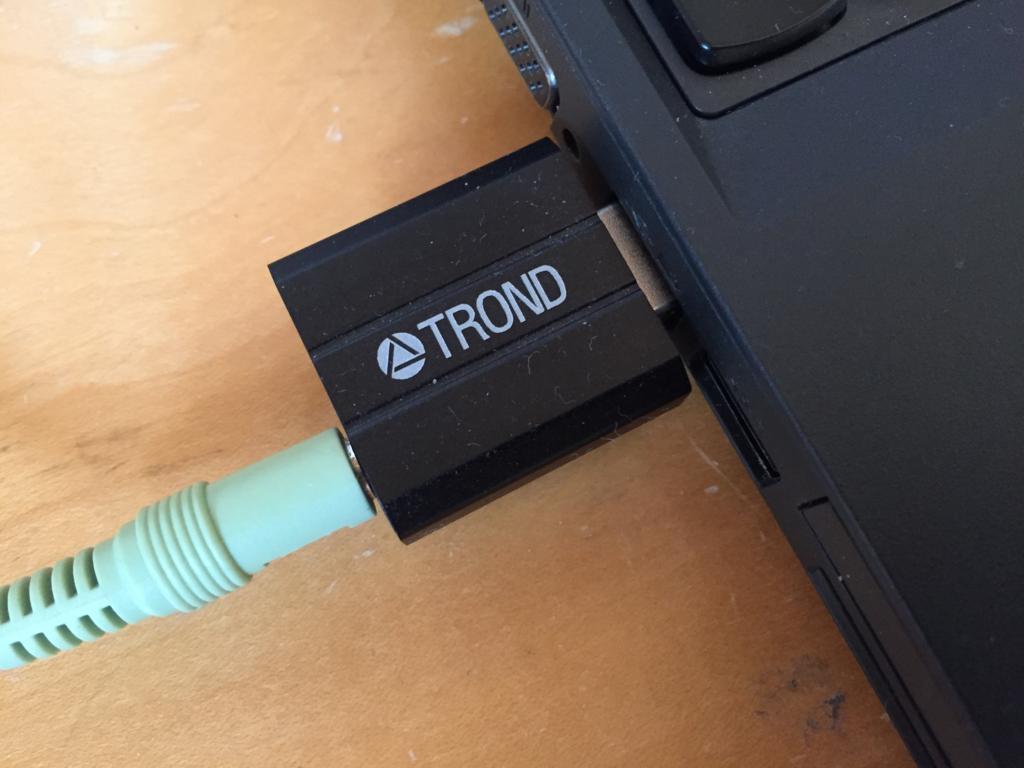 Dock
If a dock is included, then this is how it will work. The computer is set to the native screen of 1920 x 1080. If your monitor is the same, then nothing needs to be done docking and undocking. If the computer monitor is different than 1920 x 1080, then the screen resolution can be adjusted to the optimal values. For example, I tested with a computer monitor with a resolution of 1920 x 1200. When I plug into the dock, the computer changes to 1600 x 1200. I enter 1920 x 1200 into the screen applet and reboot for optimum resolution. When I leave the dock, the computer switches back to 1920 x 1080, and no further action is needed.
WebCam
The built-in webcam can be used with WebSee software. WebSee requires iso-synchronous transfers over USB, so Arca Noae USB 11.17 is installed, rather than the newer USB 12.x because iso-synchronous transfers are not yet available in USB 12.x.
Capabilities
The USB 2.0 ports support keyboards, mice, scanners, thumb drives, cameras, MP3 players, external hard drives, floppies and CD Writers.
The laptop can use any memory left over from 32-bit usage as a RAM drive. For 8 GB RAM models, this RAM drive has 4.7 GB, and is formatted HPFS. For 4 GB models, the RAM drive is not configured. If activated, the RAM drive would have 700 MB.
Defects
This laptop boots to the desktop in under 60 seconds. That's important, because suspend/resume does not work. To make up for that, the laptop can do a clean power down when the lid is closed.
There is no ArcaOS support for the bluetooth or fingerprint reader. Support for the internal WiFi and USB 3.0 is under development at Arca Noae.
Software
Operating system: ArcaOS 5.0.4
Suntan Special is included with each computer. All applications that are pre-installed by Blonde Guy can be kept up to date using Suntan Special.
Apache OpenOffice is installed. OpenOffice has good compatibility with Microsoft Office documents.
The ePDF software has been installed to allow the creation of PDF output from any OS/2 application. Speaking of PDF, QPDFView, Lucide, GSView and GhostScript are installed.
Computer maintenance programs include Suntan Special, a trial version of DFSee, Sysbench to measure the speed of the computer, PCI to scan the system hardware and SystemInfo to view the entire computer configuration.
RPM/YUM, a software configuration framework, is installed. Suntan Special acts as a layer over RPM/YUM to replace the detailed knowledge of how to install and configure software using YUM with pre-packaged application installations.
The FAT32 file system is installed.
Firefox and Seamonkey web browsers are installed. For the Mozilla family browsers, the Flash plugin is installed, but off by default. Qupzilla web browser, based on Qt and the Apple Web Kit is also installed.
Thunderbird, SeaMonkey and PMMail are installed to provide a choice of e-mail client program.
Java (OpenJDK 6.00) is installed.
VLC media player is installed to play back most video file types and some commercial DVDs.
DVDTools is installed to provide DVD and CD writing.
PM123 music players are provided to support music needs. The CD Player is correctly configured to play music CDs. Generic MP3 players that connect via USB are supported.
Cameraderie provides support for digital cameras.
I use rsync, which is a mirroring program, to keep several copies of my data drive. The rsync program copies only files that have changed, added or removed when it updates a copy of the data drive.
4os2 provides an alternative to the OS/2 command prompt with more features.
A number of fonts are added. Thanks to Alex Taylor for developing some OS/2 specific fonts. Liberation and Deja Vu fonts are also added to support some programs.
Also asscoedit, vncserver, PMWipe are installed.
WebSee webcam software is installed. This gives limited webcam support.
Suntan Special
I use Suntan Special to install the software on all Blonde Guy computers. Suntan Special software can be used to install all updates to the system and its applications and to install additional applications. When newer versions of software are released, Suntan Special can keep your Blonde Guy computer up to date.
Recovery DVD
The recovery DVD supplied is a bootable ArcaOS DVD with a backup of the hard drive as delivered. You can boot the machine from DVD, and perform maintenance functions. The maintenance folder is available on the recovery DVD. The factory backup is stored in the \Factory directory. The backups are simple zip files. You can use 7z or unzip to extract some or all of the files in a backup.
DFSee
DFSee is a generic disk, partition and filesystem utility for maintenance and data-recovery. It supports partition tables (FDISK, LVM), FAT, FAT32, HPFS, NTFS, and partly JFS, EXT2/3 or REISER filesystems. DFSee is commercial software which requires a license key for continued use.
Specifications
Model name: Lenovo Thinkpad T540p
Model numver: 20BE-004ENUS
CPU: Intel Core i5-4300M (2.60 GHz)
RAM: 8 GB Memory
Disk Drive: Toshiba 2 TB hybrid drive
15.4 inch Color LCD screen with HD resolution (1920 x 1080 pixels)
Intel HD Graphics 4600
Intel Pro/1000 PL 10/100/1000 network adapter using E1000E driver
3 USB 2.0 ports using Arca Noae drivers
9 cell Lithium Ion battery
AC Power adapter
Restore DVD with network support.
Physical Dimensions
Height: 1.3 inch
Width: 14.8 inches
Depth: 9.8 inches
Weight: 5.31 lbs
Power Consumption
Power consumption is 16 Watts, measured with the computer booted to the desktop. This computer consumes less than 1 Watt if it's plugged in, but switched off. When charging a depleted battery, it consumes up to 45 Watts.
Photos
Front and Right
Right
Left
Back
Dock Back
Dock Front
Disk Layout
The disk is partitioned to provide two bootable partitions, one for use as a server and including SAMBA server, and the other is set up for as a tradtional NetBIOS networking using the IBM File and Print client. User data is stored on a separate volume.
This is the layout for a Seagate Hybrid 2 GB hard drive.
| | | | | |
| --- | --- | --- | --- | --- |
| Volume Name | Disk Format | Drive Letter | Volume Size | Disk Name |
| ArcaOS-C | JFS | C: | 10,001 MB | 2 TB SSHD |
| ArcaOS installation | FAT16 | X: | 2,000 MB | 2 TB SSHD |
| ArcaOS-F | JFS | F: | 10,001 MB | 2 TB SSHD |
| ArcaOS-K | JFS | K: | 10,001 MB | 2 TB SSHD |
| ArcaOS-P | JFS | P: | 10,001 MB | 2 TB SSHD |
| BL-J | JFS | J: | 9,969 MB | 2 TB SSHD |
| Data | JFS | D: | 1,847,749 MB | 2 TB SSHD |
ArcaOS version
ArcaOS 5.0.4 (Jul 25, 2019) is the version used for this installation. This is the output of the version command.
For the BlueLion-J volume:

Installed Component Name                          Version  Service Level  Drive
-------------------------------------------------------------------------------
OS/2 Base Operating System                        4.52     XR0C008        J:
Base Device Drivers                               4.52     XR0D005        J:
Base Networking (MPTS)                            6.01     WR08708        J:
Internet Applications (TCP/IP)                    4.32     UN02335        J:

Performance Benchmarks
This table reports the SysBench 0.9.5 benchmarks for this computer. You can download SysBench 0.9.5 here: http://hobbes.nmsu.edu/
| Category | Measurement |
| --- | --- |
| PM-Graphics-marks | 282 |
| CPU integer-marks | 10264 |
| CPU floating point-marks | 434 |
| DIVE-marks | 11243 |
| File I/O-marks | 50431 |
| Memory-marks | 14103 |
| Simultaneous I/O-marks | 47 |
| Disk I/O-marks | 597 |
| CD I/O-marks | 260 |
Ordering
To buy this computer, fill out an order form and submit it to Blonde Guy. Blonde Guy will review your order and send you an invoice, payable using PayPal or any major credit card. If you prefer to pay by check, note that in the notes field of the order form, and I will e-mail you an invoice payable by check.
If you have questions, you may enter them in the notes portion of the order form.
The final price of the computer depends on tax, shipping and options.
An order for the computer is for the hardware as descibed on this page and for the software licenses.
| Product | License | Cost |
| --- | --- | --- |
| ArcaOS | Commercial | $229 |
| | Personal | $129 |
| | User's own copy | $0 |
The ArcaOS License is available three ways. For a business, the comercial license is required. For most other uses, a Personal license is sufficient. If you already have an ArcaOS 5.0 license available for this machine, there is no charge for ArcaOS.
Last Modified: 12 Jan 2020
Graphics by Colorful Language
Copyright 2020 by Blonde Guy